Quotes of 3D Printing from Worldwide Clients
Views: 244 Update date: Nov 10,2022
We are the expert of rapid prototyping in China, at Sanwo Rapid, we are applying the latest digital technology for model making, and providing Rapid 3D printing SLA and SLS prototyping services around the world. Recently, we got some quotes of
3D printing
from worldwide clients, below are the details:
1. Hi there, I am looking for a company that can assist me with producing a collection of 3D printed pieces of furniture made sustainable PLA/PETG plastics. I have provided some photos for reference for a chair I am looking to replicate. The product catalogue would increase provided prototypes can be sufficiently delivered. Can you please inform me on what range of plastics you have available, timeframes to complete such a project, MOQ's (if any) and any other relevant information. Regards
2. Hello there I was looking to know if you could make me up a model board for a car bumper. I also have some 3D car parts I need made up and I have files of all the parts I need is This something you would be interested in doing or could do let me know thanks
3. Hello I have a cad drawing of a speaker grill that will go onto a door trim of a car and U was wondering what would be the best wait to create this? I'm thinking 3d printing. I need a quote 2 please
4. Hi there, I hope you are well. I have attached a file we are looking to have 3D printed in standard white resin as two separate parts. Could you please provide us with a quote and lead time? Kind Regards
5. Hi, I would like to Know if you are able to make me, my step files in 3d metal printing, stainless steel if its possible, in any possible process, Best regards
6. im loking for best price for 3d print prototype qty 5
7. Hi, i am wanting to 3D Print the attached file out of basic PLA.
8. Hi we would like these small dinosaurs 3d printd at good resoltion and then cast in bronze. there will be 6 different poses, and just one of each, Can you do this from the 3d file we send? and what is the cost for 1 sculpture?
9. I would like to print a lampshade with SLA material black. Now I still need a price for a piece. Greetings
10. Hi, We would like to obtain a quote for the attached part. It should be printed in a ABS-like material via a SLA printer. After being cleaned and cured, should be painted in satin black. Can you please quote 500/1000/2000 units? Thank you very much and have a nice day
11. Just looking into both the feasibility and costs involved in printing this object. If this design isn't practical I have alternates hat can be used. Any information you could provide would be greatly appreciated. Thank-you. Regards

12. Hi, it's for a 3D printing in resin it's for 2 pieces of 2 different printing. the resin should be semi-transparent and the surface should be mat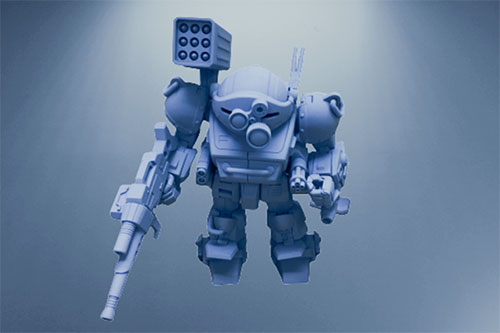 13. Hello I would like a quote for this 3d print/ object/ decoration. It consists of 2 different files. The final rendering should be close to glass or transparent plastic. Is it possible to make it with SLA (Resin ABS Like)? Or would a Vacuum Casting method be better? Thanks

14. Hello, I want to make my parts (attached file) in 3D metal printing in a stainless steel or treated steel. With a finish, matte black paint and as soft as possible to the touch. I also need them to be as accurate as possible. Thank you in advance for considering my request. And I look forward to your quote. My best regards
15. Hi there, would you be able to quote me with regard to 3D laser scanning, CAD modelling and printing of the attached plastic item - approximate size in inches (32 in x 9.5 in x 3.25 in )? Additionally, printing should preferably be thermoplastic (PEEK) or Nylon - same surface finish and color as the item shown in the picture. I look forward to hearing from you as soon as possible.
16. I have a large part and I am curtious to know what your price is. I dont mind what material you use to print it with or the colour. Infil can be low, I just want to know the rough price. It is a big part so it will need to be cut into pieces.
17. Hello I am wanting to enquire about your 3D printing services. Please find the attached file of our idea which you can hopefully help me and my business partner bring to life. In the attached file you will find the 3D models we have for our project which are also available in a CAD FILE and a document showing the vision and purpose of them. We hope to hear back from you with a ball park figure of what something like this will cost so we can then hopefully build a relationship with you to be our supplier which we expect in the future to have an increase in demand.

18. Please provide quotes to supply the attached item. Ideally to be 3D printed out of black nylon in quantities of 1, 6 and 24. Please contact me if you require any further details. Possible larger order quantities in the near future.
19. Dear Sir or Madam, we are looking for partners to supply many different plastic parts. For the moment, we have production volumes of a few hundred pieces over 2023, but we have strong growth prospects. For a first collaboration, we need a quantity of 400 pieces in two months for a pilot project. We have designed 3 different parts in order to test the tolerances. Could you give us a quote for 400 hundred of a piece and 3 pieces of each design. Do you 3D print these materials and if not, What material do you suggest ? I look forward to your response and your thoughts. Best regards

20. Hey team, Hope you're well. My colleague and I have had conversations about bringing our art into a physical medium such as ceramics. I was wondering If I could grab a quote on how much it would cost to get our products printed? as well as associated costs eg. shipping and an estimate on how long it would take to get some samples. Let me know what file formats you would like Thanks!
21. Good Morning, Hope this email finds you well, We would like the model printed in a 1:35 scale. Finishing we are open, we do like SLS or bowser wood however we like the model colour white or wood visual finish. Could you advise what is the cost and likelihood on your next express delivery. Hope to hear from you soon. Best wishes

22. Hello, I would like to get this printed in orange ABS. The text should be readable, but otherwise please adjust all parameters to minimize cost.
23. please quote of 3d printing the attached parts in inconel. Require 2 (two) of each part
24. To connect the wheels and the axles we need non stell bushes. I think they could made by 3d printing. I want to ask you if you see any possibility to produce all the parts we need for the wheelsets. At best, could you assemble these wheelsets? Anyway, attached you find the files for our project. Please let me know if you think you are able to produce or not. I hope to find anyone who can do this. Best regards
25. Hello, I am looking to get the attached part made ASAP from polypropylene. This material is essential as it will be RF welded to another piece of PP. Is this something you could do? I was thinking it could be 3D printed but I'm open to alternatives if these are faster or more cost effective. Thanks!
Our highly-experienced staff is capable to meet any stringent demands with the 3D printing, SLA and SLS Process. we are striving to meet any specified requirement and lead times in the highest standard at an affordable price which benefits from
Rapid Prototyping
SLA and SLS and 3D Printing , we would love any challenge in model making from customer. You are welcome to contact us:
info@sanworapid.com
Prev:When is SLS used for Prototyping
Next:Precision CNC Machined in Nylon Prototype